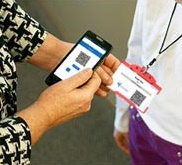 Event Buddy–
An attendee Friendly app which they can use for almost everything they need for an event just with the tap of a button .Be Amazed by the futuristic innovations to make your life at events much better.
Features :-
Scan badges and store contact info of attendees, The mobile Phone is always with you. So is all the contact info you collected
Categorize scanned Contacts into various personalised groups
Access Organiser Contact Info and Help
Program schedule with Detailed speaker bios & conference agenda, Venue details
Pose Questions to Speakers/Panelists
and many more features..
Happy life at your next event