---
Create the Best Event Experiences
Upload all necessary Event Information,Make your presence known, Engage your attendees,Increase your ROI through Event Buddy, your Homely Event App. Know, Interact & Engage
Event Buddy
Basic App Features
HYBRID FEATURES ( in addition to basic app features)
✔ Program schedule- speaker bio & conference agenda, venue details
✔ Create your own program list based on your preferences
✔ Access organizer contact info and help
✔ Pose questions to speakers /panelists even before and after the webinar.
✔ Send answers to Faculty's questions.
✔ Organised Q&A Forums ( Pre/Current/Post Event) for attendees.
✔ Abstract/Paper
✔ Take Notes and photos of Slides and keep them organised based on session, for future
✔ Exhibitor List ( Sponsor List )
✔ Polling / Voting Pad ( this can be used pre and post event.)
✔ Venue Direction Google Map
✔ Attend Quiz through App
✔ Post Feedback on Sessions and Performances
✔ Notice Board to store updates and alerts about the event
✔ Your Registration QR Code built in
✔ Scan badges and store contact info of all attendees
✔ Categorise scanned contacts into various sections
✔ Call them at the click of a Button

✔ Networking with Attendees.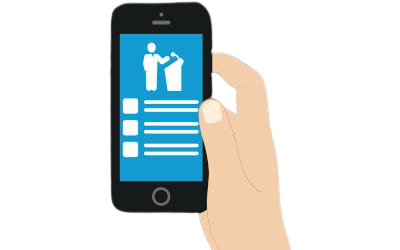 Want to know more about what we can offer you ?
Contact Us